Donation Boxes
Would your business like to fundraise for us?  Request a donation box today!
Set it by your cash register, reception desk or other high traffic location and watch the cash add-up!  Once your box is full, give us call and we will empty it out for you.
Having an event or fundraiser on our behalf?  You can request a donation box by emailing klocke@hskl.ca
All money collected goes towards supplies for the animals in our care.
Questions?  Call us 705-878-4618 x41
---
Empties Recycling
We have a designated area on the left side of our driveway, just past our aluminum/pop can recycling bins, to accept empties.
Please, make sure your empties are boxed or bagged.  It is much appreciated when cans, bottles and plastic wine bladders are separated, as we have limited volunteers to sort.  We accept everything the Beer Store takes back.
Watch our social media pages and our Event's page for our Curb-side Bottle Drive dates.
Would you like to volunteer at our bottle drives?  Email our volunteer coordinator at volunteer.hskl@gmail.com
Questions?  Email us at shelter.hskl@cogeco.net
---
Change for Pets! (Formally 'Pennies for Pets')
We are always collecting pennies (yes, we still want your pennies!) and other coin.
Bring your bags, cans, tins, jars or rolled change to us and we'll put that coin to good use!  This money goes towards shelter supplies.  
We also accept Canadian Tire money!
---
Aluminium Can Recycling Program
In partnership with Community Living's Jobs'R'Us program, this recycling program brings much-needed funds to both organizations. Don't let that 'money' go into your recycle bin, bring it to us!
Drop your bagged pop cans off to the grey recycle bins located along the side of Second Chance - 111 McLaughlin Road.  These recycle bins can be accessed 24/7.  
When bagging, please only put pop cans/aluminum cans, in the bag. We can no longer accept soup cans, pet food cans, or other tin.  Cans can be whole or crushed.
Thank you for your support!
Questions?  Email us at shelter.hskl@cogeco.net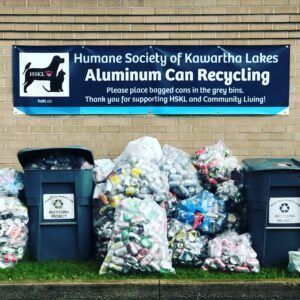 ---
HSKL Clothing & Merchandise
Need a new hoodie?  Maybe a hat or t-shirt?  Are you a volunteer and need a volunteer t-shirt?  We've got you covered!
Drop by the shelter during regular hours and take a look at our clothing selection. We've got hoodies, polo shirts, cotton t-shirts, jackets, scarves, hats, and more!
When you purchase our HSKL branded items, you are helping to support the animals in our care.
A big thank you to Lindsay Sportsline (44 Kent St.W., Lindsay) for supplying us with such a great selection of styles!
Are you a Monthly Donor?  You get 15% off all HSKL branded clothing*!  Who doesn't love a perk!
Want to order a novelty t-shirt? Click here!
*In-stock clothing only.  Not applicable with on-line orders.